Here is an example of one of our Tradies websites. Click on the image to visit the website.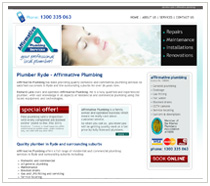 "Your 'small business' package offered just what I was looking for in a website, simplicity, functionality, and most of all searchable."
RICHARD LANE
Affirmative Plumbing
For more website examples, go to our portfolio page. Click here.

Tradies Websites
Just about every small business owner understands the need to have a website and get found online. But getting a quality website can be confusing, time consuming - and a real headache.
So we have developed simple, affordable and effective website packages that suit tradies perfectly - from just $495.
At Artitude, we make it incredibly easy for you!
Our Tradies Website Package includes:
Professional copy writing
Great looking design
Supply of top quality photography
Built in search engine optimisation (what's this?)
Domain name registration
Flat out running your business?
Artitude has been helping small businesses with their advertising and marketing needs for more than 20 years and one thing always stands out.
Small business owners, especially tradies, don't have the necessary time to successfully promote their business.
That's why Artitude has streamlined the process, so you end up with an affordable and effective website with a minimum of fuss.
The process:
With our Tradies Websites, we make it incredibly simple for you.
1) We get an entire brief from you in a short phone call.
2) We create your site.
3) You make any changes required.
4) We launch your website.
It's that simple!
Keen to get started?
Call us now on (02) 4360 2579 for a no obligation chat.