Here is an example of one of our electrician's websites. Click on the image to visit the website.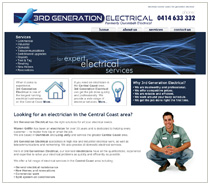 "After talking with Chris and Caroline at Artitude we knew they had the experience to do a great job and were also people we could trust. And we haven't been disappointed."
Warren Griffin
3rd Generation Electrical
For more website examples, go to our portfolio page. Click here.

Electrician Websites
Most small business owners understand the need to have a quality website and get found on the Internet. But the process of getting a website can be confusing, time consuming - and a real headache.
That's why we have developed simple, affordable and effective website packages that are perfect for electricians - from just $495.
With our Electrician Website Package, we do everything, including:
Professional copywriting
Supply top quality stock photography
Top quality website design
Built in search engine optimisation (what's this?)
Domain name registration
Flat out running your business?
Artitude has been helping small businesses, including electricians, with advertising and marketing for over 20 years and one thing has always stood out.
Small business owners, including electricians, don't have time to successfully advertise their business.
So Artitude has streamlined the process, so you end up with an affordable and effective website without the time and hassle.
The process:
With our Electrician Websites, we make it so easy for you.
1) We get an entire brief from just a 5 minute chat on the phone.
2) We write and design your site.
3) You then make any changes you like.
4) We launch your site.
It's that easy!
Keen to get online?
Call us now on (02) 4360 2579 for a no obligation chat.