Here is an example of one of our Small Business Websites. Click on the image to visit the website.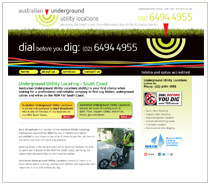 "If you want a website and new look for your business at an affordable price you can't go past Artitude. They are totally professional and you can trust they'll do a great job."
Mark Broadbent
Australian Underground
Utility Locations
For more website examples, you can visit our portfolio page. Click here.

Small Business Website Package
We make it easy for your small business to have a top quality, search engine friendly website.
With our Small Business Website Package
we do everything, including:
4 pages
Professional copy writing
Great looking design
Supply of top quality photography
Built in search engine optimisation (what's this?)
Domain name registration
Our Small Business Website Package is perfect for the Small Business owner who knows the importance of a quality online marketing presence, but has no time to do anything about it.
The process:
With our Small Business Website Package, we make it so simple.
1) We get an entire brief from you in a short phone call.
2) We create your site.
3) You make any changes required.
4) We launch your website.
It's that simple!
Keen to get started?
Call us now on (02) 4360 2579 for a no obligation chat.
Here's what one of our customers have said about our Small Business Website Design Package...
"After spending almost four months labouring over my "do it yourself" website builder, and in frustration pushing it onto the "back burner", I was contacted by Caroline offering me an economical custom built web page and hosting package. At the time I was incredibly busy and must admit, I forgot all about our initial contact.
After a week or two, Caroline prompted me to finally take a look at the Artitude website and what you could offer me.
I immediately recognised that my DIY website was totally inadequate, very amateurish, and lacked any searchable features.
Your "small business" package offered just what I was looking for in a website, simplicity, functionality, and most of all searchable.
Your professional and honest approach to my individual business needs is very much appreciated, and the speed and ease in setting up my custom website is a testament to that professionalism.
I look forward to many years of business with Artitude, and strongly recommend anyone contemplating building their own web site, to take a look at what Artitude has to offer. I'm sure they will come to the same conclusion as I did, the old cliché "stick to what you know best & let the experts handle the rest".
RICHARD LANE
Affirmative Plumbing