About us - Artitude Website Design, Central Coast

Artitude is a design studio on the NSW Central Coast specialising in website design. We are passionate about our work and dedicate ourselves to the success of our clients.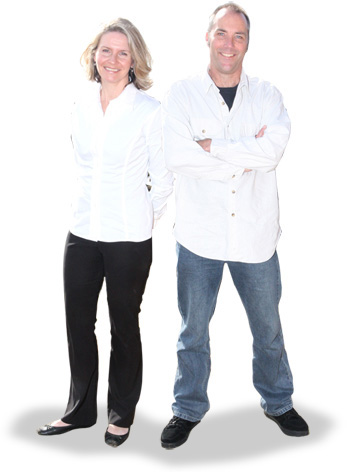 Who is Artitude?
Artitude is owned and operated by Chris Hatcher and Caroline Perryman.
Chris is a highly respected graphic designer with over 28 years in the industry - including more than 20 in his own graphic design and marketing business.
Caroline is a journalist with over 14 years experience in radio and publishing and still works part time for the ABC.
In 2009, Chris and Caroline combined their talents to create professionally written and designed website packages for small business.
More about Chris
Chris was born into a family of designers and started his career in 1982 at a design studio in St Leonards, while studying at the School of Visual Art in Sydney.
Contacts at the art college led to a job offer at a North Sydney studio which specialised in magazine design. This is where his passion for publishing began and it wasn't long before he was appointed Art Director of a national magazine - at the age of 18.
Soon after, he followed in his Father and Brother's footsteps and established his own Studio - 'Graphix' in Crows Nest. He focused on magazine and book design, but still created a variety of other work.
He also established a typesetting business with his Sister.
After eight years, Chris sold 'Graphix' to travel to Europe with his future wife, Caroline. They travelled extensively for two years and worked a winter in London. Chris managed a studio in a prominent magazine publisher in Southfields, London.
On their return, Chris and Caroline moved to Killcare on the NSW Central Coast
Chris headed up an art and prepress department in a busy Sydney printing business which was at the forefront of technology, and was one of the first to introduce ctp technology. This is where Chris broadened his technical knowledge.
After four years, he set out on his own again and in 1997, Artitude was born.
He returned to magazine publishing, while producing some corporate identity work for local businesses. This is when he first began designing websites.
Chris continued with magazine design, but moved further into web design and online marketing and development, helping numerous small businesses with their online advertising. In 2009, Chris and Caroline combined their skills to create affordable website packages for small businesses. They have since created top quality and effective websites for small businesses and continue to develop new online marketing tools tailored to a variety of industries and professions.
More about Caroline
Caroline is a senior journalist with more than 14 years experience in radio and publishing.
Caroline started her media career with Central Coast Radio (Sea FM and 2GO) and in 2002 was promoted to News Director.
In 2005 she left Central Coast Radio to freelance in radio, television and publishing, before joining ABC Central Coast Local Radio as the producer/journalist.
Caroline is also a fully qualified teacher and has worked in a number of schools in London and Australia.
Caroline now works part-time for ABC Radio and writes website copy for Artitude.